A few weeks ago, I knocked my favorite mug off the counter and it shattered. RIP: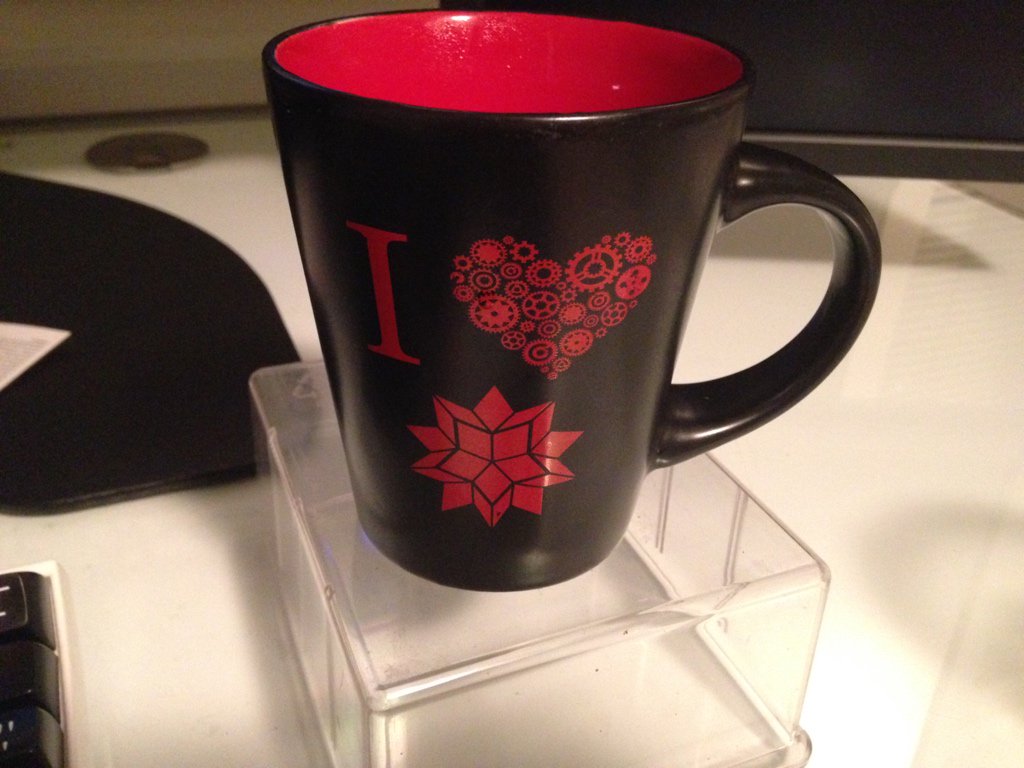 Like a good consumer, I immediately went to the Wolfram store to buy a replacement, but they no longer make it. They did have a deck of playing cards which promised a unique illustration and generating code on each card. How could I pass it up?
The cards arrived a few days ago and they were way cooler than I imagined. As I flipped through the deck, I realized a lot of the cards would be really interesting as starting points for animations. I've been going to town with them and posting to Twitter in an epic thread.
I'll lay them out here grouped by concept… enjoy!
Just Rotating Squares
4♠️ pic.twitter.com/5dM7m8Y22I

— Matt Adereth (@adereth) October 29, 2017
October 29, 2017
A♦️ pic.twitter.com/xkdKj1COEa

— Matt Adereth (@adereth) October 29, 2017
October 29, 2017
Imaginary Numbers
2♦️ pic.twitter.com/0ts8QGsWiD

— Matt Adereth (@adereth) October 30, 2017
Varying the exponent from 1/5 -> 5. 3 on the card. pic.twitter.com/REzLlOAUau

— Matt Adereth (@adereth) October 30, 2017
Jumping back to the 2♦️. Each (a,b) is a fixed color and is positioned at the complex coordinates of (a+bⅈ)ⁿ for n ∈ [½, 5] pic.twitter.com/idbrCcCro7

— Matt Adereth (@adereth) October 30, 2017
A♠️ pic.twitter.com/SxXAyZopE5

— Matt Adereth (@adereth) October 29, 2017
ok, this one is expensive. Just going to make a deeper version… pic.twitter.com/UE6Z97cKo3

— Matt Adereth (@adereth) October 29, 2017
4♣️ (Another shockingly complex but structured one from time code) pic.twitter.com/2odoWUtCAb

— Matt Adereth (@adereth) November 2, 2017
Here it is with more detail in DarkRainbow pic.twitter.com/anX6X6kskO

— Matt Adereth (@adereth) November 2, 2017
ZOOMING pic.twitter.com/JtkmbcTJDd

— Matt Adereth (@adereth) November 2, 2017
These playing cards are inspirational… starting with the 2♥️ pic.twitter.com/2qMovSbPPw

— Matt Adereth (@adereth) October 28, 2017
…and tweaking the Pi/6 value: pic.twitter.com/7UkNEB4EN7

— Matt Adereth (@adereth) October 28, 2017
7♠️ pic.twitter.com/scPwDCaPPD

— Matt Adereth (@adereth) October 30, 2017
This one is just very surprising. The card doesn't capture the progression of the curve… pic.twitter.com/hBPR35cxSN

— Matt Adereth (@adereth) October 30, 2017
Trigonometry
7♣️ pic.twitter.com/CL3s9sMeT2

— Matt Adereth (@adereth) November 2, 2017
November 2, 2017
10♦️ pic.twitter.com/OQzC6gbwrD

— Matt Adereth (@adereth) October 28, 2017
October 28, 2017
3♦️ pic.twitter.com/ql5LSGuxGP

— Matt Adereth (@adereth) October 29, 2017
October 29, 2017
8♣️ pic.twitter.com/6jeVkd9yet

— Matt Adereth (@adereth) October 29, 2017
October 29, 2017
Miscellaneous
4♥️ (Hot take: this is surprisingly bad code. Side effects? Unnecessary call to Image in the loop? Should be a single expression!) pic.twitter.com/XsJUHM67El

— Matt Adereth (@adereth) October 30, 2017
Anyway… here are the intermediate tranformations: pic.twitter.com/Azq0CPU1rB

— Matt Adereth (@adereth) October 30, 2017
Inverted is better pic.twitter.com/vzP5MmLdE2

— Matt Adereth (@adereth) October 30, 2017
9❤️, gotta cc @KnitYak for this one pic.twitter.com/cNoGJMbgZ4

— Matt Adereth (@adereth) October 30, 2017
October 30, 2017
10♣️ pic.twitter.com/3OojtNlD6Z

— Matt Adereth (@adereth) October 30, 2017
October 30, 2017
6♦️ pic.twitter.com/ambOdlfJhT

— Matt Adereth (@adereth) October 30, 2017
October 30, 2017
3♣️ pic.twitter.com/wrMuS4g2yz

— Matt Adereth (@adereth) October 30, 2017
October 30, 2017
10♠️ pic.twitter.com/93HolEaQNC

— Matt Adereth (@adereth) October 30, 2017
gooey pic.twitter.com/jPgMhKhozw

— Matt Adereth (@adereth) October 30, 2017
9♦️ pic.twitter.com/0uA6FmjIUb

— Matt Adereth (@adereth) October 30, 2017
October 30, 2017
3♥️ pic.twitter.com/0eX4FL7NDZ

— Matt Adereth (@adereth) October 31, 2017
October 31, 2017
Grand Finale
Thanks for making it this far! Your reward is the K♣: